Around Taklamakan
The province of Xinjiang (« new frontier » in chinese) located in the far western region of China is the biggest province of the country. It is bordering 8 other countries such as Tajikistan and Afghanistan or India and Mongolia. Xinjiang has a long history of discord between China's authorities and the Uighur ethnic minority. The Uighurs of Xinjiang are one of 55 minorities in China and they are ethnically and historically closer to the Muslim Turkic group of Central Asia.
As Xinjiang is a significant source of raw material and energy (40% of China's coal), the central governement of China has been working hard on controlling and exploiting the resource rich Xinjiang by establishing a tight social, cultural and religious regulation system and by resettling millions of eastern Han chinese (the ethnic majority in China) into Xinjiang. This continuous influx of Han migrants has followed the extension of the Chinese railway from Urumqi to Kashgar in the West (in 1999) and from Kashgar to Hotan in the South (in 2011) around the Taklamakan desert. Today, the share of Uighurs is in constant decline: Han chinese count now for a little less than half of Xinjiang total population as the Uighurs used to account for 90% of the total population when Mao Zedong took power in 1949. As Han chinese immigrants come with hopes of making a new and better life, Uighurs suffer from the Chinese influence and discrimination in education, employment, language and religion. They must adapt to the chinese way and forget their roots or be left behind.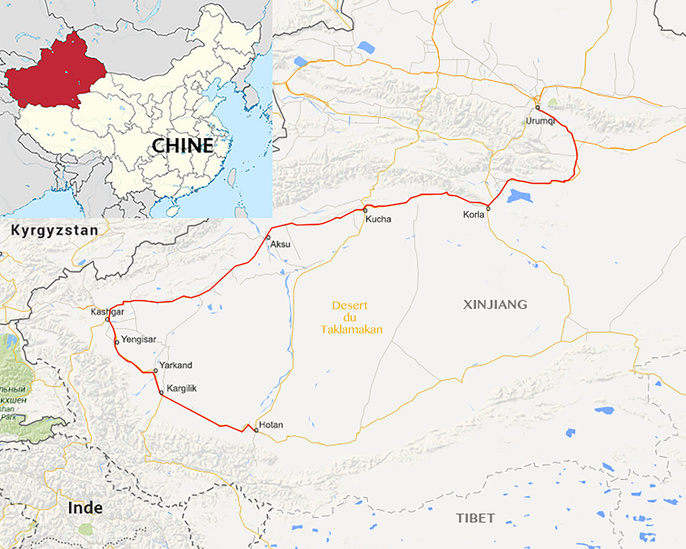 Map of Xinjiang and my itinerary from Urumqi to Hotan.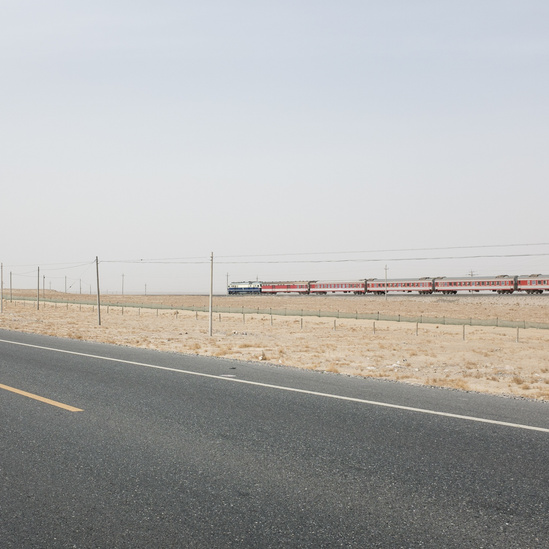 This photo reportage aims at documenting the current situation in Xinjiang province, by following the main tool used by the chinese governement to develop, occupy and exploit the region: the railway. I followed its routes from Urumqi to Kashgar (in service since 1999) and from Kashgar to Hotan (in service since 2011) - A train from Hotan to Kashgar in the Taklamakan desert, 26/03/2015
Mountains and road - A few kilometers south of Hotan, China, 25/03/2015
A Uighur man standing on Hotan main square as members of the People's Liberation Army are walking behind him. The statue on the left shows Mao Zedong shaking hands with an old Uighur named Kurban Tulum. When the People's Liberation Army marched into Xinjiang, a few years after the 1949 revolution, Kurban Tulum wanted to show his appreciation so he rode more than a 1500km around the Taklamakan desert in Xinjiang to the provincial capital of Urumqi, to bring grapes as a symbol of appreciation to Chairman Mao. Officials saw the public relations opportunity and flew him the remaining 3000km from Urumqi to Beijing to meet Mao Zedong. They first met in 1958 and the hand shake was reenacted some time later in front of a communist party meeting, where the famous picture was taken. The governement likes to hold up Kurban as an ideal for Uighurs, who they believe should welcome the governement's policies in Xinjiang - Hotan, China, 26/03/2015
Early morning in an area mainly populated by Han Chinese - Urumqi, China, 13/03/2015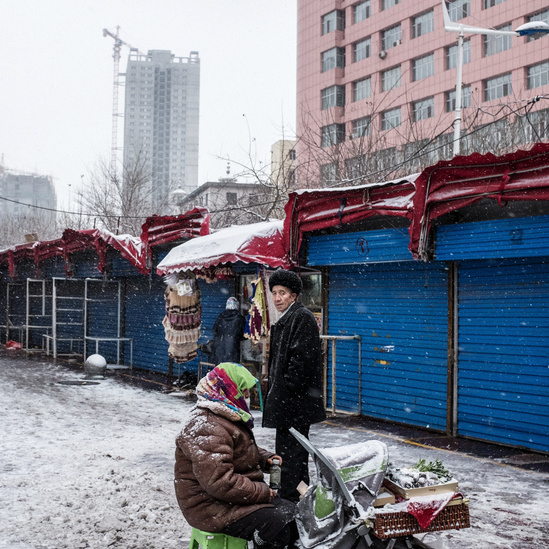 Urumqi on a snowy day, the provincial capital of Xinjiang Uyghur Autonomous Region is a modern industrial city largely populated by first and second generation Han chinese migrants, mainly from eastern China. They often come for jobs in the oil and mining industries - Urumqi, China, 12/03/2015
Han Chinese men in front of Urumqi train station. For the past decades, China's central government has been encouraging workers from all over China to settle and work in Xinjiang province: it is called the Go West campaign. In Xinjiang, the economic improvements have mainly benefited the Han people, creating resentment and a feeling of uneven economic development to the native Uighur population - Urumqi, China, 13/03/2015
Due to the discovery of oil in neighboring Taklamakan desert, the city of Korla is now home to a huge operational center for Petro China oil company. The wealthy oil town is developping fast with 20,000 people settling in the city every year and a rapid urbanization. Here, a Uighur woman contemplating the skyline and an artificial lake on a sand storm day - Korla, China, 14/03/2015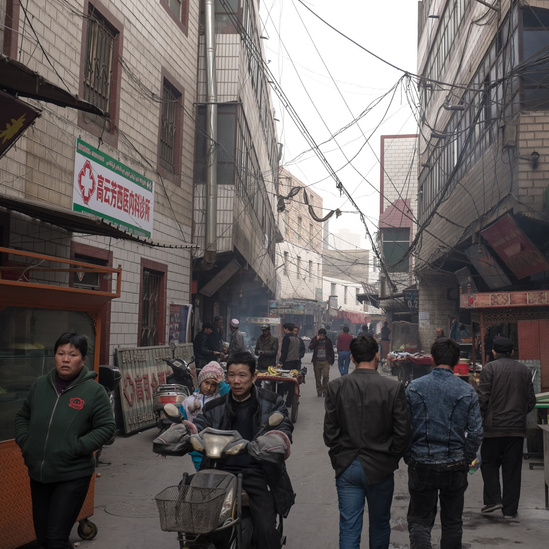 A Uighur neighborhood - Korla, China, 14/03/2015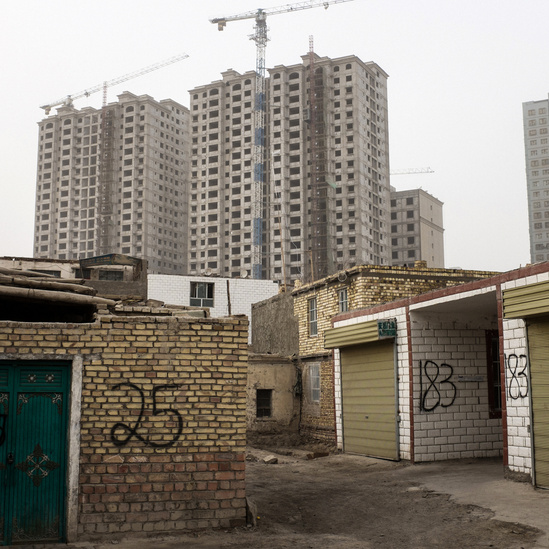 Under construction residential buildings can be seen behind an old and partly abandonned Uighur neigborhood. Xinjiang modernization relies mainly on Han Chinese migrant workers - Korla, China, 14/03/2015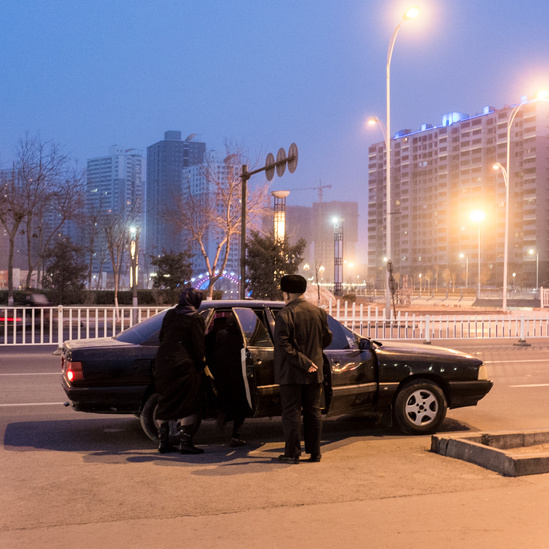 In a new residential area - Korla, China, 14/03/2015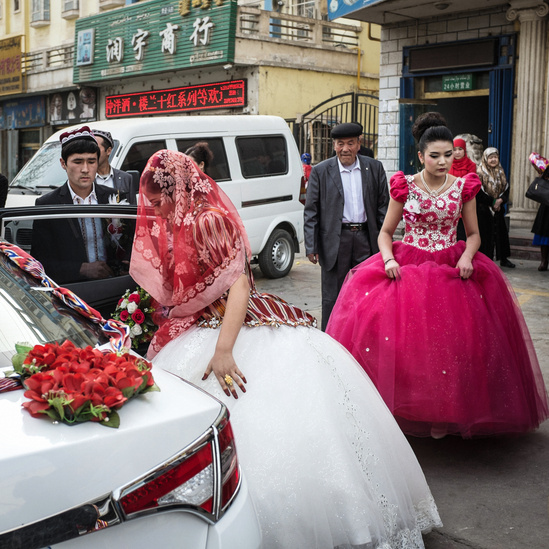 A Uighur bride is boarding a car - Korla, China, 15/03/2015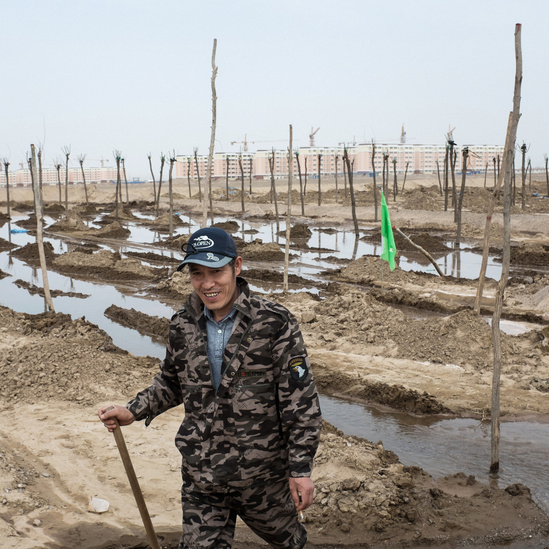 A worker from the military farm (bingtuan) n°224, working in the fields. In the background can be seen residential buildings in construction which belong to the same "bingtuan". "Bingtuans" are military production and construction corps set up in the 50's under Chairman Mao governement and dedicated to Xinjiang development and colonization - Between Kargilik and Hotan, China, 26/03/2015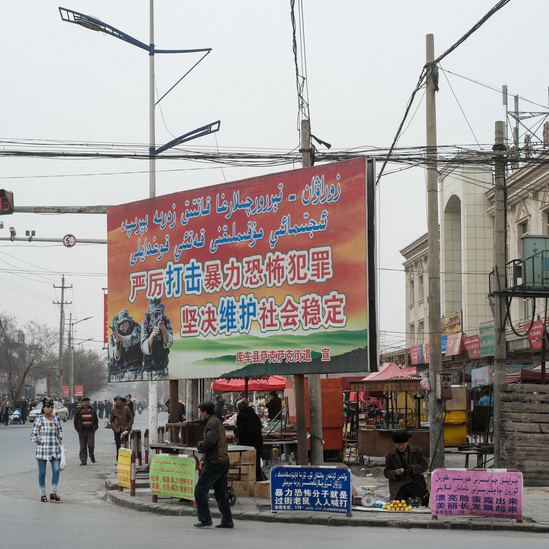 Propaganda is particularly active in Xinjiang province, it occupies lots of public spaces. Here on the big board: "Strongly crack down violent terrorism crimes, sternly maintain social stability", small blue board: "A violent terrorist is a rat crossing the street chased by all", small pink board: "Reveal your pretty face, let your beautiful hair fly" (message towards muslim women) - Kuqa, China, 16/03/2015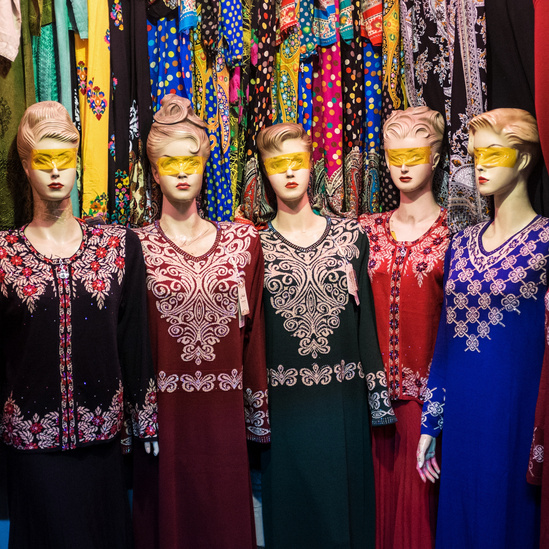 Dummies with their eyes covered inside a shop of Urumqi Grand Bazaar (as according to some interpretation of Koran, human representation is strictly not allowed). Xinjiang Uyghur Autonomous Region has recently banned burqa wearing in public spaces which followed other cultural and religious restrictions from Beijing, creating a resurgence of a stricter form of Islam - Urumqi, China, 12/03/2015
A muezin calling for evening prayer on a mosque's rooftop. Religion is tightly regulated and monitored by the government in Xinjiang. Among other rules, muezins are not allowed to use speakers to call for prayers, muslims are not allowed to pray in public, they cannot go on the Hajj (pilgrimage to Mecca) until they are 65, there is a dress code including punishments for beards and people under 18 are banned from going to the mosque - Kashgar, China, 22/03/2015
Uighur women during a traditional Uighur dance show rehearsal in celebration of Newroz, the traditional Iranian new year holiday, also celebrated in kurdish and central asian areas - Kashgar, China, 19/03/2015
Uighur people holding chinese flags during a traditional Uighur dance show in celebration of Newroz, the traditional Iranian new year holiday, also celebrated in kurdish and central asian areas. These kinds of events are "strongly" encouraged by chinese government - Kashgar, China, 21/03/2015
Uighur men watching a traditional Uighur dance show rehearsal in celebration of Newroz, the traditional Iranian new year holiday, also celebrated in kurdish and central asian areas - Kashgar, China, 19/03/2015
New residential buildings can be seen from an old Kashgar area. The vast majority of the Old Kashgar has been knocked down to be rebuilt and modernised, supposedly for reasons of security and earthquake safety - Kashgar, China, 21/03/2015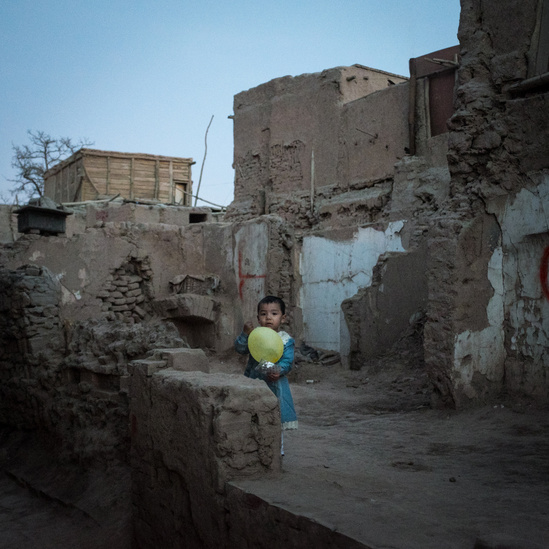 A little girl holding a balloon in the ruins of traditional houses in an old neighborhood of Kashgar where many people were forced to leave to the outskirts creating resentment for losing part of their culture - Kashgar, China, 21/03/2015
Kashgar is the most western city in China and it is the second biggest city in Xinjiang after Urumqi. Most of the city has been rebuilt or renovated to become a touristic spot. But tourism in Xinjiang is down since 2009 riots as chinese fear visiting the province. So in 2014, Beijing has decided to give 500 RMB (80US$) to each chinese visiting the region - Kashgar, China, 19/03/2015
At a Uighur wedding, the groom (center) is being rushed to the bride's home - Kashgar, China, 21/03/2015
Relatives at a Uighur wedding - Kashgar, China, 21/03/2015
In front of Idkah mosque in Kashgar. In July 2014 the Imam of the mosque who had supported the Communist party was stabbed to death by assailants. Imam Tahir was frequently quoted by state media praising the party and condemning separatists. In 2010 he told a meeting at the annual session of the NPC: "Some hostile forces in and outside China have made use of religion to carry out penetration, sabotage and secessionist activities in Xinjiang, and they also sowed discord between religious people and non-religious people. So we must keep vigilance." - Kashgar, China, 22/03/2015
A Uighur home doorstep. On top plates above the door, messages can be read in both Uighur and Chinese. These are "rewards" to "well behaving" Uighur families issued by local chinese authorities and the communist party. From left to right: "civilized family", "peaceful family". Other rewards can also be found for good speaking chinese families or families who don't have too many children as Uighurs also have to obey birth controle regulations - Kuqa, China, 16/03/205
A young man holding a dove in Yarkand where the Internet has been cut off by chinese government between July 2014 and April 2015 after a series of riots. Southern Xinjiang and Kashgar area is currently considered very unstable as there are regular eruptions of violence , China, 24/03/2015
A propaganda book found at a Uighur family's. It is dealing with religion, stability, terrorism, the central government etc. - Yengisar, China, 24/03/2015
Two guards and their shields at the entrance of a hotel. Security has become top priority to local and central government authorities after 2009 outbreak. Radical security measures enforced by Beijing in Xinjiang, has only widened the gap between the Uighur and the Han populations in their daily life - Yengisar, China, 24/03/2015
Han chinese kids in a bus on their way to school. Kids don't mix much in school either as there are "Uighur" schools and Han chinese ones - Urumqi, China, 13/03/2015
At "Baywatqa", a Uighur disco club. Mostly, the Uighur and the Han Chinese communities hardly blend - Aksu, China, 17/03/2015
A Han Chinese woman dancing on a basketball ground - Yengisar, China, 24/03/2015
A carousel made of chinese tanks replicas, Kashgar, China, 22/03/2015
A Han chinese couple in an amusement park - Aksu, China, 17/03/2015
A young Uighur holding a cigarette in his mouth after going for swimming in the nearby river - Hotan, China, 27/03/2015
Houses presumably built to accomodate ex-nomadic population. Written on the wall:"stability is happiness, trouble is a disaster" - A few kilometers south of Hotan, China, 25/03/2015
A shepherd on a motorbike after a herd of camels crossed a road - Taklamakan desert, a few kilometers south of Hotan, China, 25/03/2015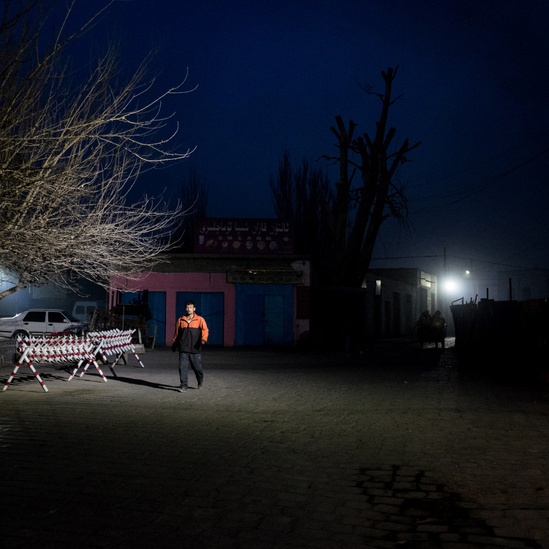 A man walking at night - Kuqa, China, 15/03/105