Sea Eye (for Amnesty International Journal Germany)
This is the story of 8 volunteers who decided to spend 2 weeks on a rescue ship off the lybian coasts and help refugee boats in distress. They travel on an old and rusty fishing ship, their equipment is limited and they don't always have an experience at sea.
This photo reportage was shot in October 2016 on the Sea Eye , a former fishing boat buitl in earli 60's and now rescuing refugees off the lybian coasts in the Mediterranean Sea.
Compared to other NGO vessels also active in the area, the Sea Eye runs on a low budget, old equipment and crews made of non professional volunteers alternating on 2 week long missions at sea.
Nevertheless, the Sea Eye is respected by other NGO ships in the lybian area as despite its weaknesses it is playing a significant role by rescuing refugees and saving lives.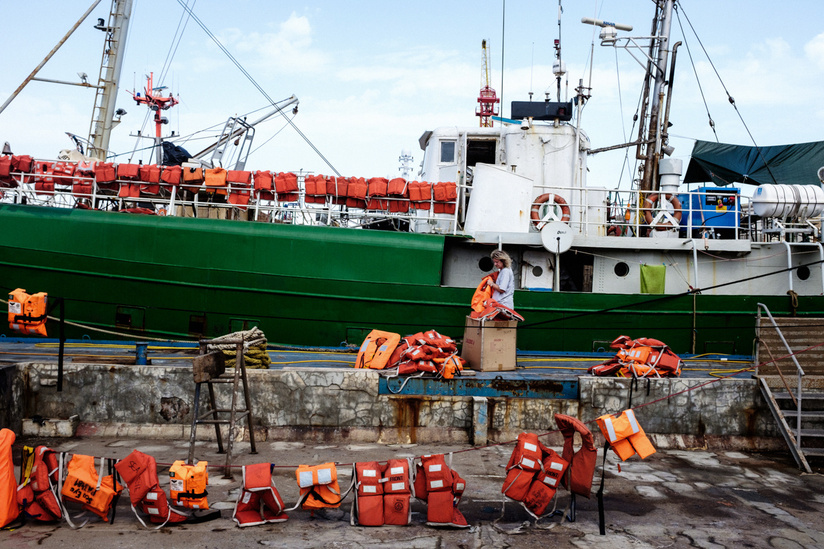 Sea Eye during a stop over in Malta with life jackets drying up in docks a few hours before departure, 07/10/16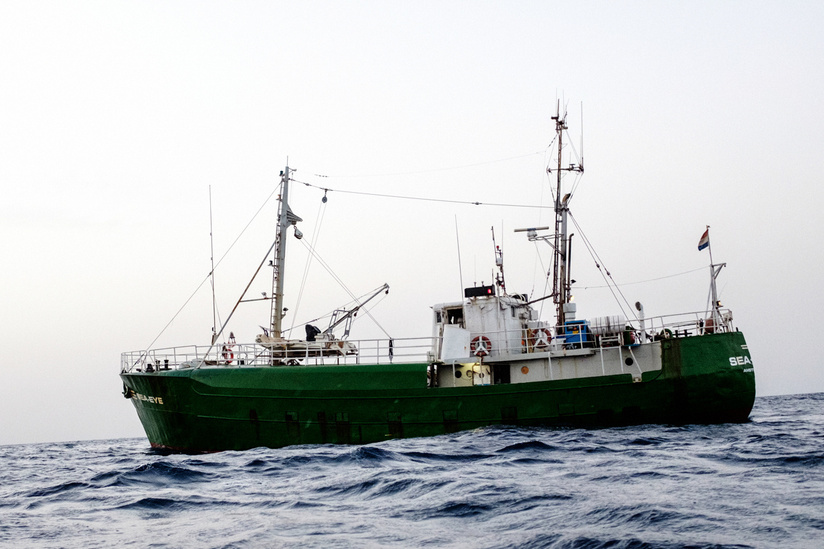 Sea Eye off lybian coasts, in the Gulf of Sirte. The ex-fishing boat cost Sea Eye NGO 30,000€ including refurbishment and has been rescuing in The Med sea since April 2016, 13/07/16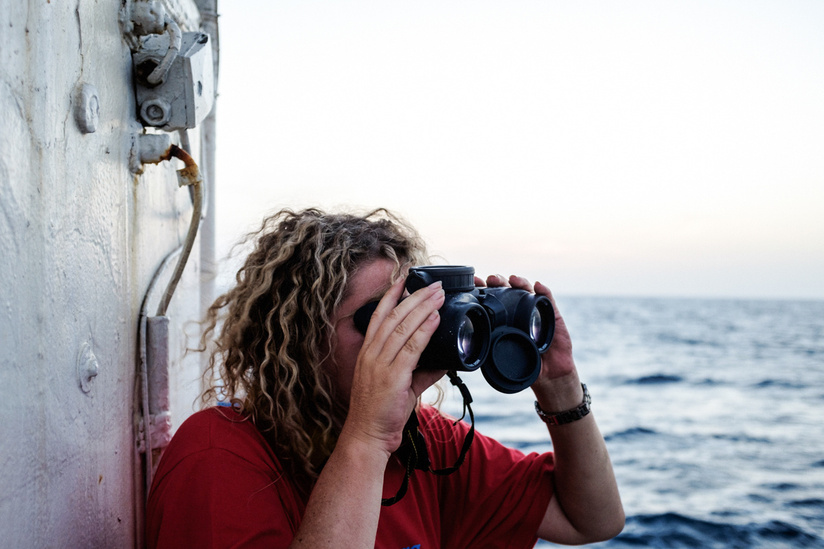 Manuela, ex-police officer, watching through binoculars as most refugee boats cannot be seen through the radar system, 09/10/16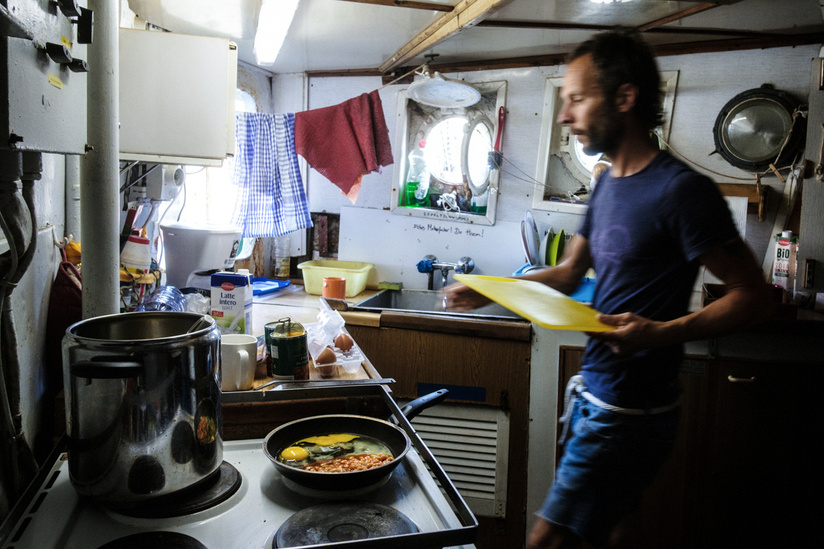 Jens, the cook on board (a social worker on land), getting english breakfast ready. Food is a significant parameter to optimize long journeys at sea, 06/10/16
Ingo fishing and Thomas reading on the rear deck. Personal activities and finding his/her own space are encouraged during long rescue missions in order to counterbalance the lack of privacy, 10/10/16
The Aquarius (Médecins Sans Frontières, SOS Méditerranée) zodiac approaching to give life jackets back to the Sea Eye as the week before, the MSF ship had shuttled refugees to Sicily as they had been rescued by the Sea Eye and wearing Sea Eye's life jackets, 10/10/16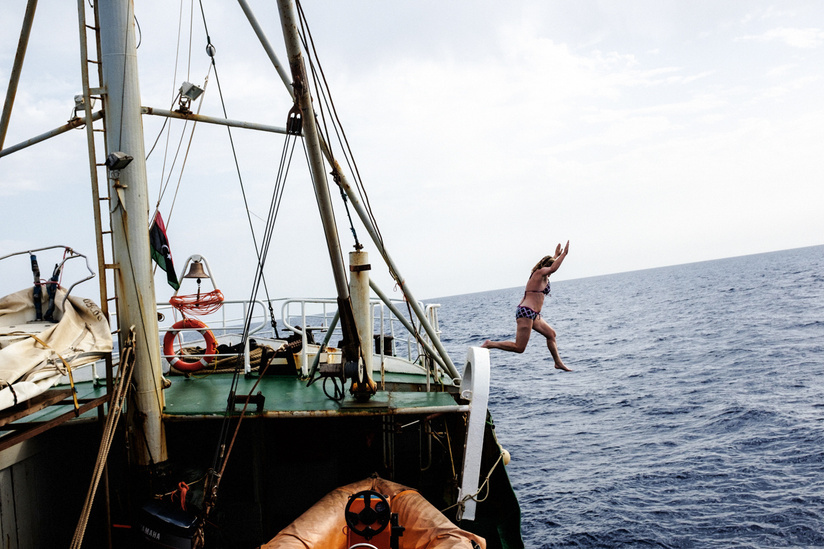 During a break, here Manuela jumping off Sea Eye, 10/10/16
Hannes, the Captain, although he is the youngest in the crew, taking a nap in his hamock before his evening shift. All crew members have to do 2 shifts of 3 hours every 12 hours, 10/10/16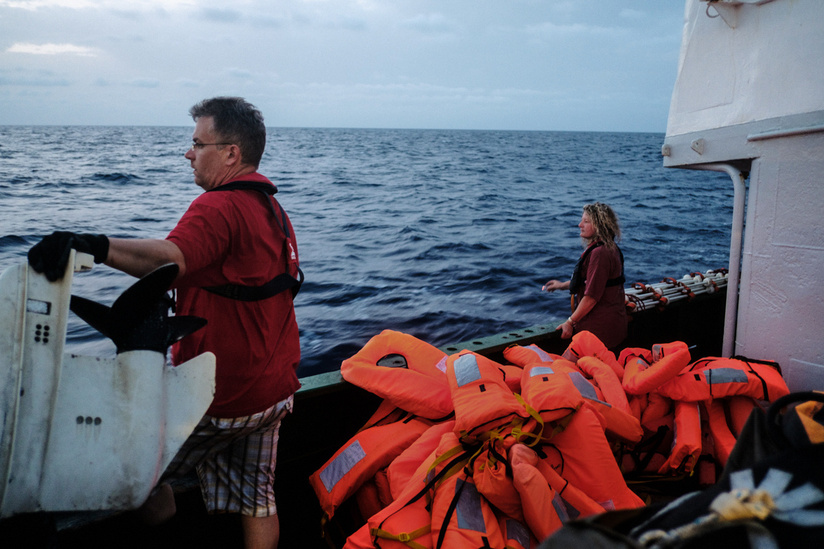 Carsten, financial controller, and Manuela getting ready to give back life jackets belonging to spanish NGO Proactiva Open Arms ship, the Astral, 10/10/16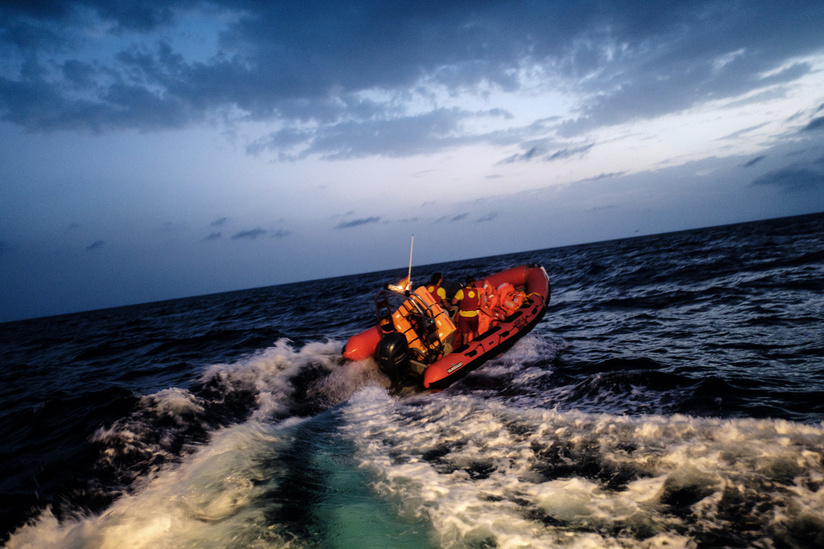 Astral zodiac leaving Sea Eye with life jackets, 10/10/16
Thomas smoking a cigar at dusk on the rear deck, 10/10/16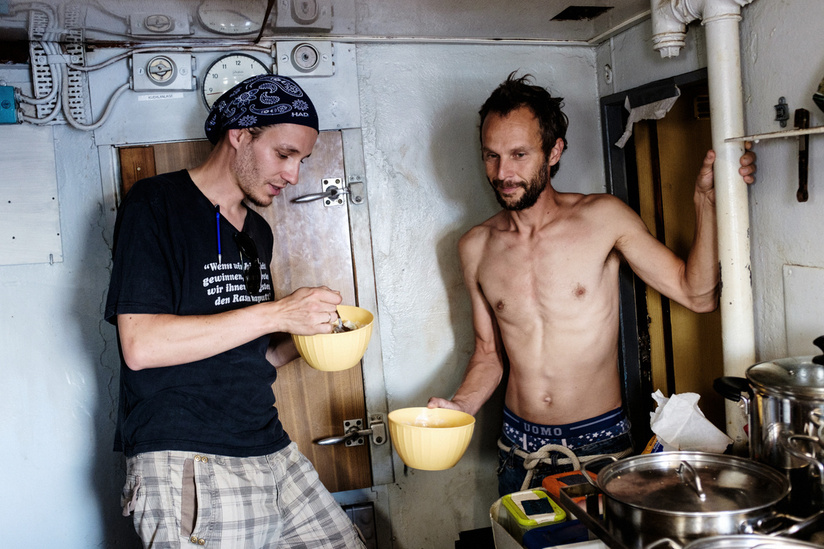 Hannes (left) and Jens (right) having a quick lunch in the kitchen, 11/10/16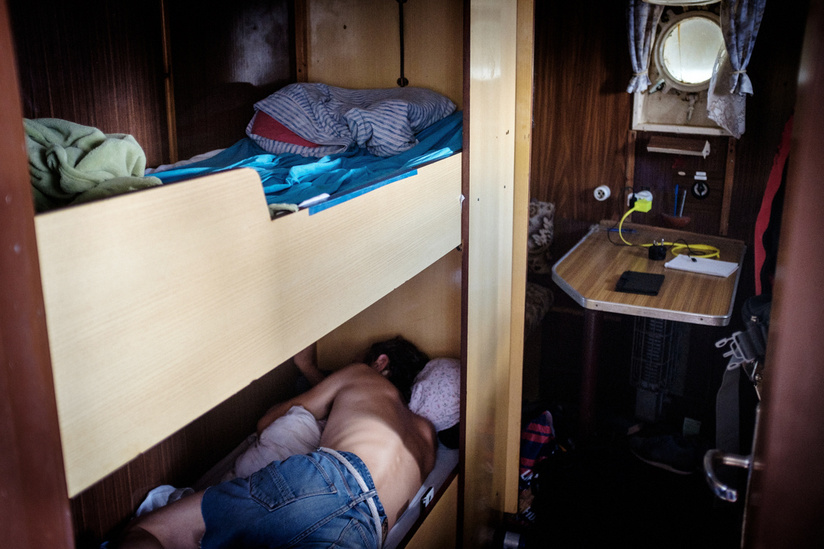 Jens sleeping after lunch, 11/10/16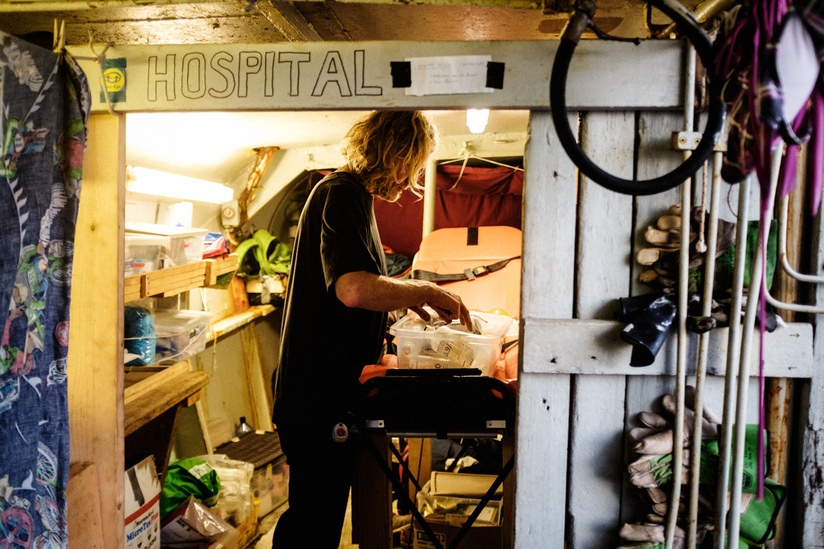 Dieter, who sells electric spare parts for a living, is getting the hospital area ready, right before a rescue operation on a refugee boat. The Sea Eye is not equipped for medical assistance and has no medic onboard, 11/10/16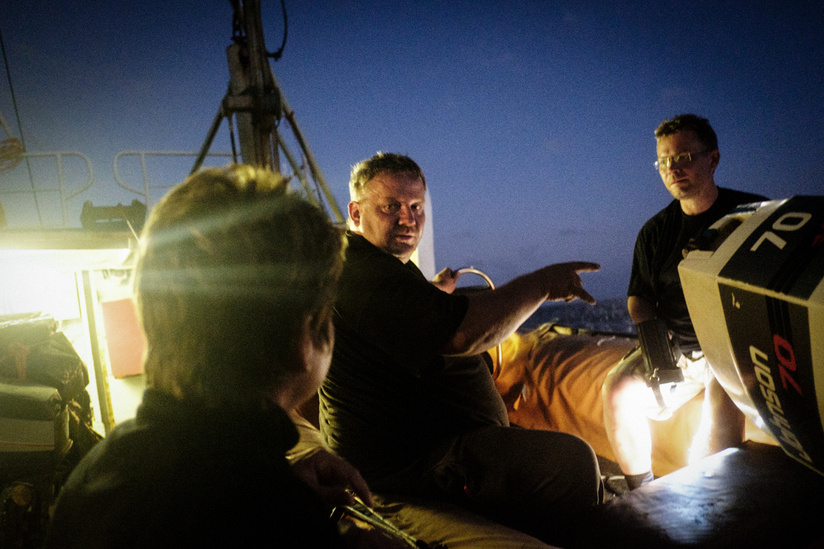 The crew getting the zodiac ready before arriving on a rescue operation zone, 11/10/16
The crew putting the zodiac at sea for an upcoming rescue operation, 11/10/16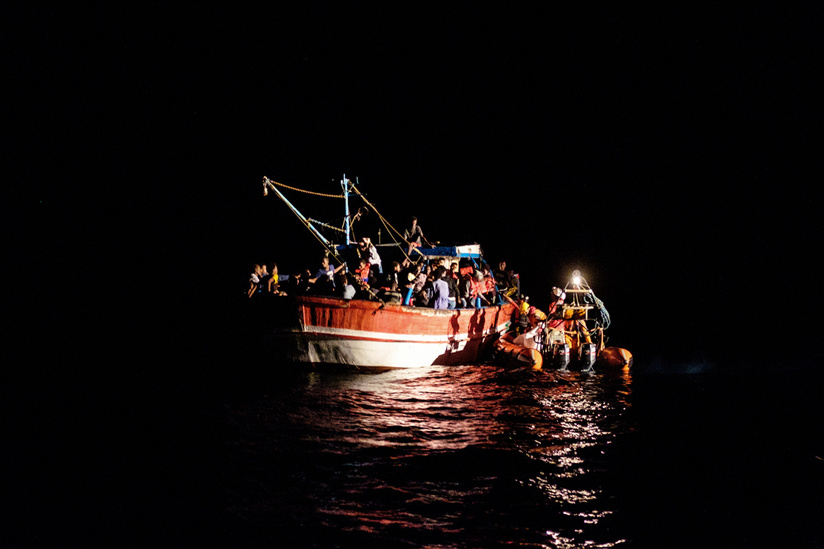 A refugee boat from Lybia and a zodiac from Vos Hestia (NGO Save the Children) handing them life jackets. Vos Hestia was coordinating the operation as it arrived first on the zone, 11/10/16
Hannes on the bridge getting annoyed by rough weather conditions as a rubber boat was spotted in the area. It will be rescued by the Juventa, an other german rescue boat, 12/10/2016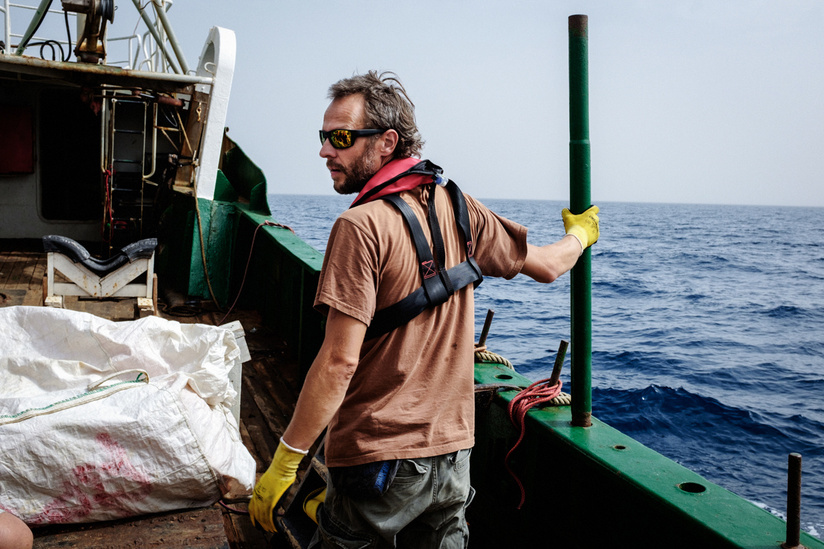 Jens on the deck as Sea Eye is looking for one or two rubber boats spotted in the area by other rescue boats and the MRCC Rome (Maritime Rescue and Coordination Center), 14/10/16
Carsten on the deck and getting ready to manoeuvre the crane to get the zodiac at sea, as Sea Eye is looking for one or two rubber boats spotted in the area by other rescue boats and the MRCC Rome (Maritime Rescue and Coordination Center), 14/10/16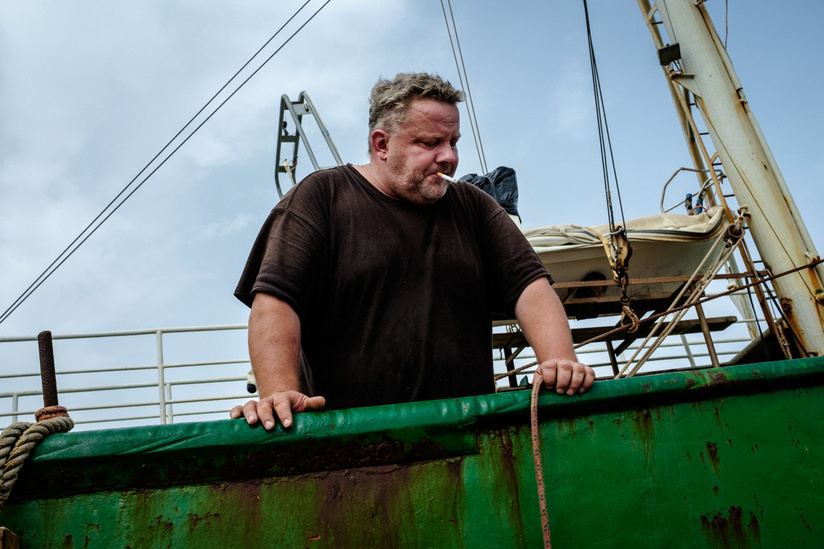 Ingo helping to put the zodiac out at sea, 14/10/16
The Zodiac crew during an exercise consisting in carrying life jackets to a potentially sinking boat, 13/10/16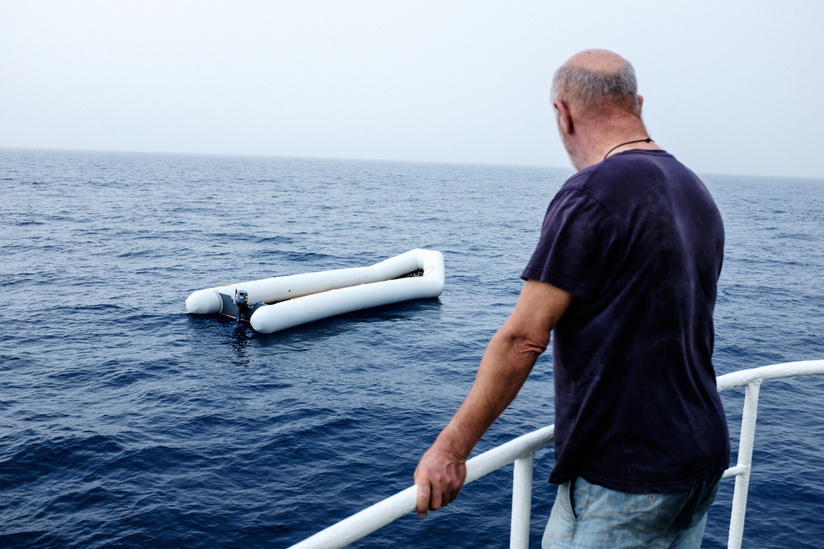 A rubber boat after its 138 passengers were rescued by the Juventa, a german rescue boat, 14/10/16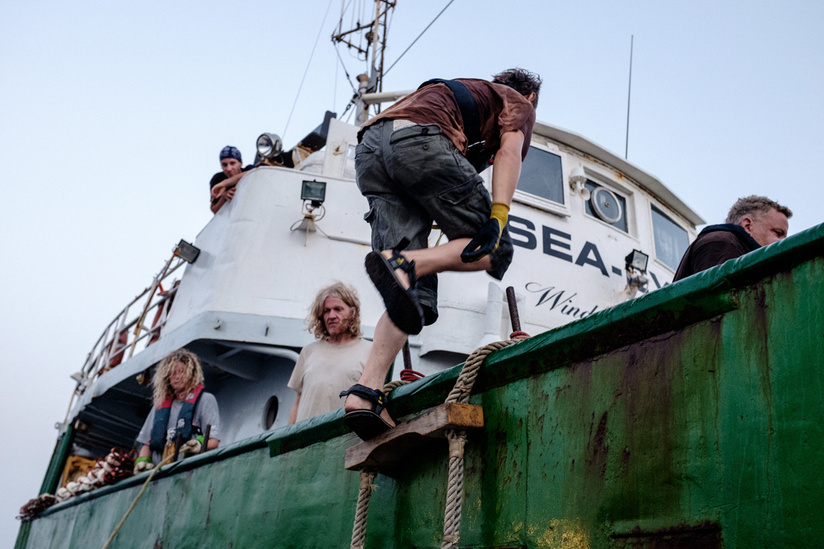 Jens coming back onboard Sea Eye during an exercise consisting in carrying life jackets to a potentially sinking boat, 13/10/16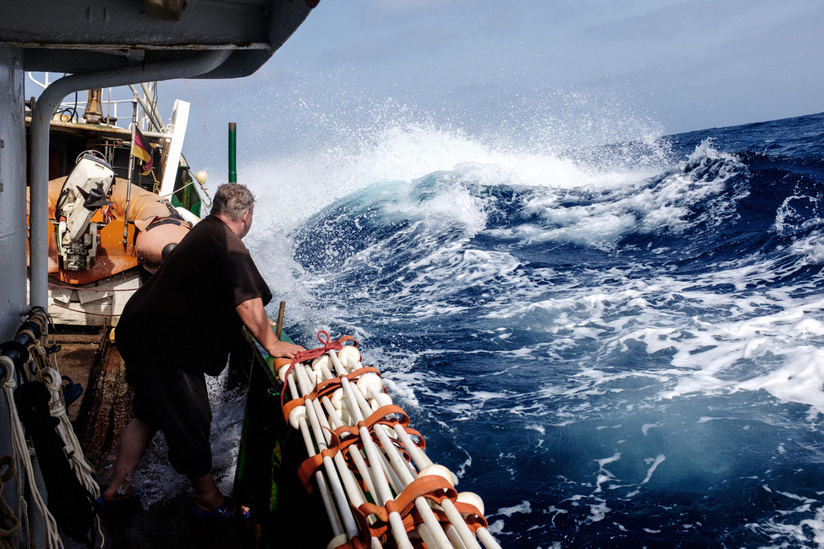 Due to rough weather and the lack of drinking water onboard, Sea Eye is heading back to Malta after 11 days at sea, 16/10/16