Trapped in Calais
For more than a decade, Calais in northern France has been the last step to a population of migrants from Middle east and Africa before crossing the Channel and hit their very final destination, the U.K.

Tired, after months, sometimes years of travelling, they are often out of money and depend on local associations for food and basic needs.

Since one of the biggest camps of the city was closed down by the police on June 23rd 2014, most of the migrants have been living on Calais streets and in the dunes around the harbor (an area called the "jungle") spending all their nights trying to board a lorry to the U.K.



A shack in the "Jungle", written on it: place of life, Calais, France - Februray 2016
An ethiopian young man killing time by the ferries harbor, Calais, France - July 2014
A kid sitting on a disused railway, Calais, France - July 2014
Two young erythreans on a train to Calais, France - August 2014
Migrants who have been arrested by the police in a train at Calais train station, Calais, France - August 2014
A kid trying to get over a fence to the ferries zone, Calais, France - July 2014
A migrant sleeping. Most migrants sleep during the day as they spend night time trying to get on a lorry, Calais, France - July 2014
A group of refugees waiting for their mobiles to be recharged, in a squat, Calais, France - July 2014
The "jungle", Calais, France - January 2015
In the camp of Grande-Synthe, France - March 2016

An eyrthrean migrant walking in the dunes area between the main camp and the harbour as he just came from Paris in early morning and from Italy the day before, Calais, France - January 2015
A man is walking in the dunes towards a newly opened daytime center for migrants, Calais, France - January 2015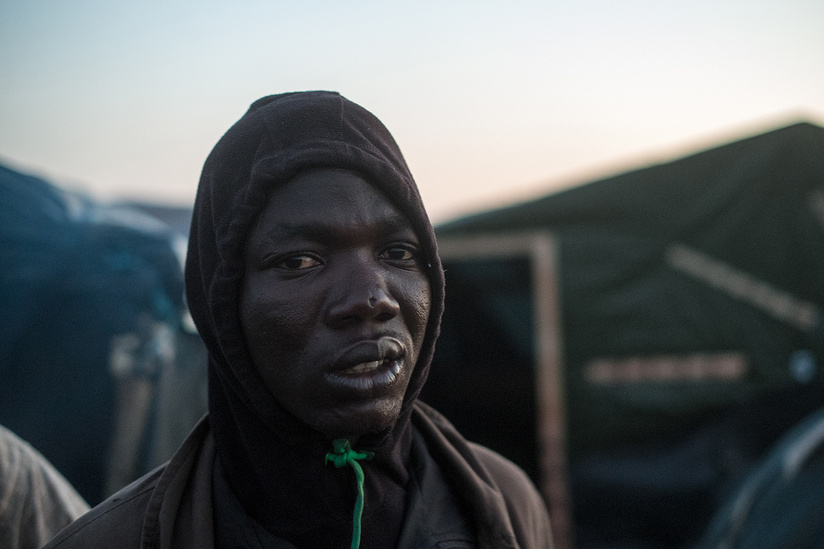 A sudanese just a few days before he made it to the U.K., Calais, France - June 2015
Erythrean kids sitting under a highway, by the harbor, Calais, France - July 2014
Afghans on their way to the harbor area after an association provided them with blankets and sleeping bags to sleep outside, Calais, France - July 2014
The "jungle" (migrants illegal camp), Calais, France - July 2014
An erythrean young man washing in a river by the "jungle" (migrants illegal camp). On his chest is tatooed the word "Paradise", Calais, France - August 2014
Distribution of clothes and blankets by Salam association, Calais, France - July 2014
Two erythrean kids leaving their sleeping area underneath a highway to go to the lorries' parking lot and find a truck to board to the U.K, Calais, France - July 2014
A migrant trying to open a lorry's doors. Migrants spend their days resting and waiting for lorries at a specific spot where they know they have to slow down in order to check them out, Calais, France - July 2014
Yvan Benedetti, President of "l'Oeuvre française", a far right movement, during a gathering in Calais against immigration. On banner: "Let's get rid of them", Calais, France - September 2014
Migrants protesting to demand more rights and better living conditions. The day after this protest, Me Bouchard, Mayor of Calais, announced the reopening of a center for migrants transiting in the area, Calais, France - August 2014
During the dismantling of the southern part of the "Jungle", Calais, France - March 2016
During the dismantling of the southern part of the "Jungle",
Calais, France
- March 2016
A man saying goodbye to a friend before taking a bus to an orientation center for migrants and refugees in western France - March 2016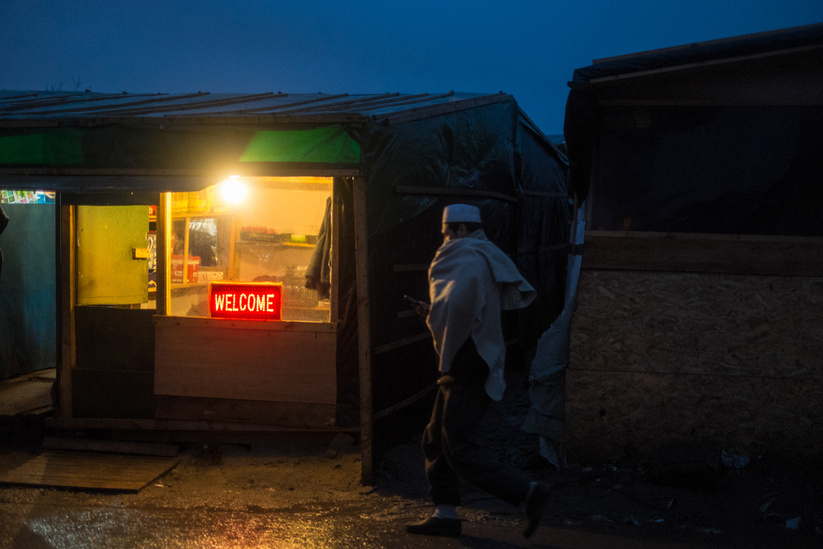 A man walking by an afghan restaurant, Calais, France - March 2016
The harbor at dawn, Calais, France - July 2014
A small group of migrants walking in the harbor area, Calais, France - July 2014
Erythreans in the harbor's parking lot trying to find a lorry to the U.K, Calais, France - July 2014
In the harbor's lorries' parking lot, Calais, France - July 2014
Erythreans checking out a lorry, Calais, France - July 2014
Erythreans checking out a lorry, Calais, France - July 2014
In the winter 2014-2015, a wall was built all around the harbor making it almost impossible for the migrants to make it to the U.K. through Calais harbor. Since then, the main entry point is the Eurotunnel at the other end of the city, Calais, France - July 2015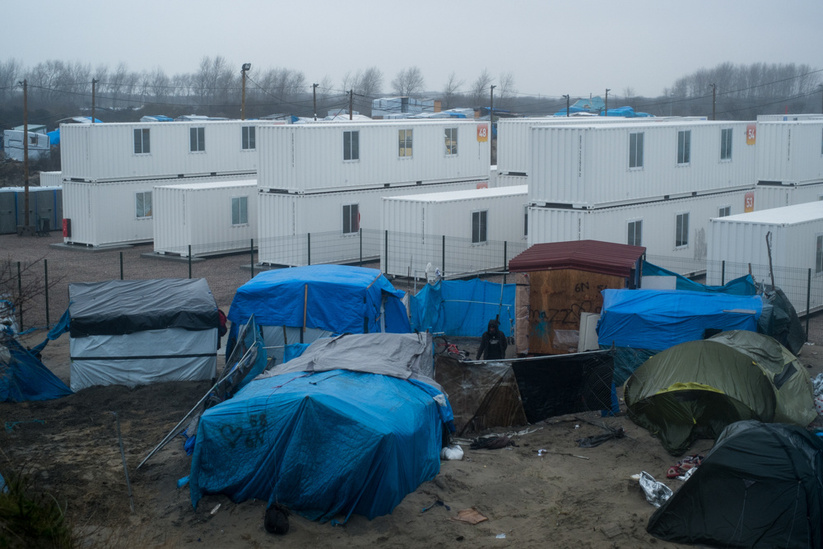 Containers installed by the french authorities to shelter migrants and refugees, Calais, France - March 2016
In the "Jungle" of Calais, written on the trailer: "place of life", Calais, France - March 2016
A migrant sleeping by a road going to the harbor, Calais, France - July 2014
Migrants washing and doing laundry in the city centre, Calais, France - July 2014
Hundreds of migrants from the "jungle" get water through this pipe. Its flow was deliberately reduced by french authorities, Calais, France - July 2014
Migrants after their daily meal provided by Salam, a local association, Calais, France - July 2014
French language class inside a squat, Calais, France - August 2014
Hair cut, at the Jungle, Calais, France - July 2015
An afghan man smoking shisha, Calais, France - July 2014
Men posing as they asked to have their photographs taken, Calais, France - July 2014
A group of ethiopians killing time by the ferries harbor, Calais, France - July 2014
The "jungle" at dawn, Calais, France - July 2014
The Channel, Calais, France - July 2014